The Union Health Minister and Congress Party veteran, Ghulam Nabi Azad's son – Saddam Nabi Azad is all set to tie the nuptial knot with Savitri Singh, the grand daughter of DLF head-honcho, K. P. Singh. Saddam and Savitri met and fell in love when they were abroad studying. Though the families not keen initially, got the couple engaged.
Saddam Nabi Azad and Savitri Singh got engaged on the September 11, 2012 in a very low-key affair. Why??? Well by then the DLF-Robert Vadra nexus had hit the roof and either families didn't want more trouble coming their way. Savitri Singh, daughter of Rajiv Singh currently handles the nightclub Anidra at The Aman Hotel. Not much is known about what Saddam Nabi Azad does.
Sources say that post marriage Savitri and Saddam will move into the posh Lutyen's Delhi bungalow that Savitri's dad, Rajiv Singh bought from Samir Thapar at an astronomical sum of Rupees 300 Crores. Read more about it here: http://wp.me/p1C8a1-xs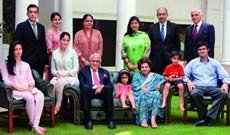 By the way, Ghulam Nabi Azad served as the Urban Development Minister between May 2004 to October 2005. I am sure with that experience, the Samdhis will hit-it-off very well!