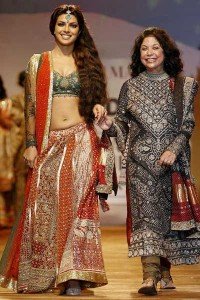 It is a proud day for the Indian Fashion Fraternity as veteran designer Ritu Kumar will be the first fashion designer to be bestowed with the prestigious 'Padma Shri' Award by the President of India today. On the 64th Republic Day Ritu Kumar will be conferred the Padma Shri; a recognition not only for Ritu but probably for the Indian Fashion Fraternity.
On the honor bestowed on her, Ritu Kumar said, "I am deeply appreciative by the fact that the government has recognized my efforts in the field of fashion, textile and craftsmanship. India remains very few countries which has an indegeneous and a very strong fashion handwriting not dictated by Paris or New York but is evolving with the designers of the country. I am grateful for the support I have received from the crafts people of this country."
Congratulations Ritu Kumar!!!