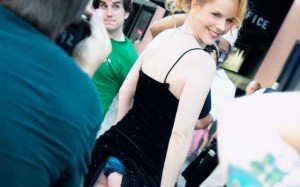 It seems no awards night is complete without the requisite wardrobe malfunctions these days and 2013 Golden Globes were no exception with the likes of  Nicole Kidman and Julianne Hough going through the embarrassing moments and the likes of Miranda Kerr, Jennifer Garner, Eva Longoria all coming within a hair's breadth of disaster.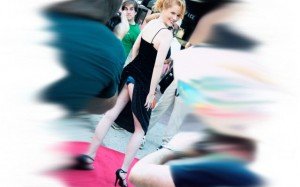 Nicole Kidman was nominated for two Golden Globes this year, as Best Supporting Actress in The Paperboy and Best Actress in a Miniseries or Television Film for her role in Hemingway & Gellhorn. Nicole had a humiliating moment on the red carpet on her way into the ceremony. As the 45-year-old stepped out of her limo and onto the red carpet, she must have somehow got her skirt caught in her pale blue granny panty. Initially unaware of the major fashion mishap, Kidman happily posed for the cameras until an aide noticed the problem and pulled her aside.
Julianne Hough, Dancing With The Stars (US) dancer, sibling to Derek Hough and girlfriend of mini TV mogul Ryan Seacrest, possibly showed off her moves with a little too much gusto, splitting open the front of her gown. She tweeted image of the mishap saying, 'Ummm I think I may have danced too hard…. Eeek!' She also wanted her fans to know she wasn't fazed by destroying an expensive awards show frock saying later, 'Ummm again… I love to dance regardless of how expensive a dress may be… You can't hold me down :).'
Desperate Housewives star Eva Longoria came unstuck in a black Pucci dress with a daringly risqué thigh-high split. The dress reportedly got caught up and came open to expose considerably more than the actress had intended. Longoria was left using her hand to protect her modesty, but like a true pro her smile for the cameras never slipped for a single moment.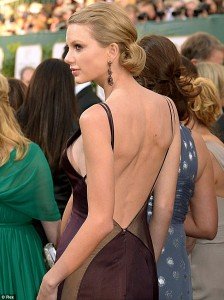 Taylor Swift, the singer, who recently split from One Direction star Harry Styles, made a solo arrival at the Golden Globe awards in a daring backless Donna Karen Atelier gown. And while the fitted plum number showed off Taylor's slim figure, it also revealed a bit too much with the cutaway sides giving a glimpse of her stick-on bra underneath.
Jennifer Garner, actress and wife of the night's big winner Ben Affleck, wore a stunning red Vivienne Westwood gown that developed a mind of its own. The dress began to head south as the evening progressed and the star narrowly avoided exposing her boobs for the world's approval.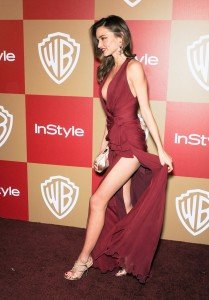 2013 Golden Globe Awards saw the trending of thigh-high slitted gowns. Miranda Kerr too wore one of the night's fad – a red thigh-high slit gown. But hey, the slit was so high that there were moments of accidental knicker-flash.