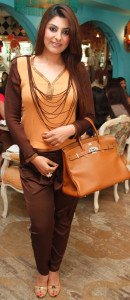 Don't most self-proclaimed fashionistas spend hours in front of the mirror? More so the ones who hire PR to brand themselves as Divas and seek invitation to parties? Well here is one such case – Aijesh Oberoi who claims to be a fashion designer (But then who isn't?). These days I get to see her pretty often on 'Page Trash', oops -'Page 3'.
Aijesh Oberoi was lately snapped at some random do where she happily posed for the paparazzi in her fashionable clothes and ignored the fact that her top was short for the low-slung pants she wore, making her belly peek out. I am sure it is not a deliberate attempt to give a sneak-peek of the belly or the latest fad. If it was, then madam Oberoi should have had done something about the ungainly stretch marks. Have a look for yourself.

Dear divas, wearing fancy labels doesn't make you fashionable. Wearing clothes that compliment your body sure does!