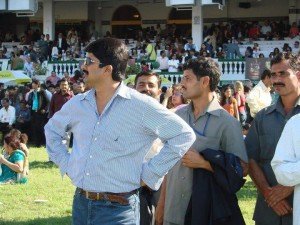 Raja Bhaiya, the MLA from Kunda, UP who was till recently the Food & Civil Supplies Minister in Akhilesh Yadav's cabinet is in news mostly for the wrong reasons. This time he is hogging the limelight for conspirating the brutal murder of Kunda DSP. Raja Bhaiya is notoriously famous; a sort of an enigma who has been winning election after election – 5 in a row as an independent candidate. For most he is a DON but for many he is a DAYAVAN.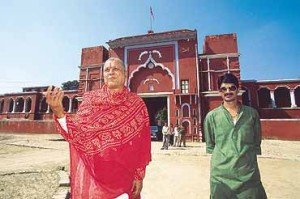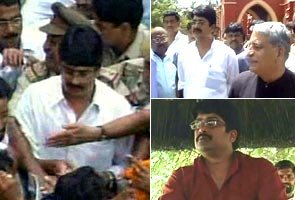 Way back in August 2004 when I was with the Times of India/Delhi Times, I did an interview of Kunwar Raghuraj Pratap Singh a.k.a Raja Bhaiya. I asked him about his infamous pond full of alligators where he throws people who err against him, his Dabanggai when he goes horse-riding every morning, his love for guns and being the Gabbar Singh of UP, the days spent in jail and his 'Princely' lifestyle. In a frank, openhearted chat, Raja Bhaiya tells all – "I am just an ordinary guy"! (Mind you, this is not my opinion of Raja Bhaiya.)
I was born in the family of Talukdars of Awadh in a small town of UP, Pratapgrah on 31stOctober 1969. From the days of royalty, till date, even in free India, people respectfully address my father as Raja Sahab, Raja Udai Pratap Singh. I was the only son of my parents but that doesn't mean that I had the liberty of getting pampered and spoilt. My father is a strict disciplinarian. I respect him a lot but like in old families, father is that figure who is little feared too. So automatically I was more close to my mother. With my mother, I could demand things and expect to be pampered.
Politics was never pre-planned career option for me. I was always interested in farming and enjoyed the simple life of my village, Kunda in Pratapgarh. It was on sheer demand of people of Kunda that I got into politics. Since my father use to meet the people every morning to hear their problems and settle minor disputes, every morning almost the entire village used to turn up at the house, which was again misquoted as Durbar. In one such meeting, the people insisted on me fighting for the MLA seat from Kunda and that's how I got into politics.
1n 1993 state elections, I was elected MLA from Kunda. So strong was the support of people that even the nearest candidate lost by such a margin that his guarantee money got confiscated. It was an overwhelming victory and since then, my detractors have managed to create an anti-image, which unfortunately media laps up immediately. What Darbar do we hold? My father sits on a charpoy and I stand by his side. Have you seen a Darbar where a Raja sahab is sitting without his throne? It's all loose talk.
"Raja Bhaiya" is a name given by people out of love. I myself do not believe in Royalty in this democratic country. Every neighbourhood in India has some body by the name of Raja. Govinda even starred in a movie called 'Raja Bhaiya'. It is a total misconception that I rule Kunda as a prince or something. I love horse riding and since childhood days, there were horses in my house. What is wrong if I go horse riding in the morning? When here people play polo on horseback, then they are cheered. When Ramaswamy's horses win a jackpot, he is raved. But when 'Raja Bhaiya' rides on his horse in the morning, he is a scrupulous, dominating man behaving as a feudal lord. What does it show? It shows vengeful behaviour on part of detractors to paint a wrong picture of me.
I am an amateur shooter and also a registered member of National Rifle Association of India. Hence, I often practice shooting with my rifle. Me, holding a rifle made a great photo opportunity for my detractors and promptly and skillfully they splashed it in various media to brand me as if I am some Gabbar Singh. It only exposes their weakness and insecurity. I just laugh it off.
Mayawati's regime in UP has been the state's darkest era. The period has been worse than the Emergency period. Literally all civil rights were suspended with POTA. Since I supported Kalyan Singh's government when Mayawati withdrew her support, I became her prime target. In her tenure I was booked under POTA for dacoity of 200 mud-bricks and dacoity of kitchen utensils. One side, they paint me as a Prince with lavish lifestyle and on the other, frame me for dacoity of bricks and utensils. You can very well understand the picture.
My days in jail were really painful. For ten months I was kept in solitary confinement in a room with a tin roof. There was not even a fan. In summer it would be like a furnace. I knew what they wanted to achieve but I was strong to bear that torture. I found my strength and peace from reading Ram Charit Manas and Geeta during these inhuman torturous months. Eventually, the sinner fades away. When Mayawati's government fell, I was taken out of that solitary confinement. I gainfully utilised my days in jail by reading and keeping my mind healthy. In fact, I introduced volleyball in the jail and got a quality diversion for the prisoners. Seven months later from the day Mulayam Singh took on as the CM of UP, I was released. This period has also showed me who are my real friends and who aren't.
Like in every old household in rural India, we too have a pond. I was surprised one day to read somewhere that the pond is full of alligators and "Kunwar sahab throws people who err against him". Strange stories. Do you think Mayawati, who could build a corridor on Yamuna, couldn't have sucked the water out of the pond and make a video of the menacing alligators and beam it on all the TV channels? I laugh at these stories as it only exposes one's immaturity.
I am a simple man. I have no great political ambition. Till date I contest as an Independent candidate because all I want is to serve my native land. I don't nurture an ambition to cross over to national politics and contest for an MP's seat. I am happy with the quiet life of Pratapgarh. I have a happy family – my wife, two sons and two daughters. For entertainment or relaxation, there is nothing like my morning horse-ride and sometimes I go with my family to watch a movie. After a long time, I saw a movie – Troy because my children really insisted. I am no Raja, no Prince… am just an ordinary guy whom people address as Raja Bhaiya…people who matter to me has faith on me, rest, I don't care. One is always invited to come to my village in Kunda and attend my inter-action session with people, the so called Durbar, fish in my pond where all you'll catch is small fishes and feel free to take a dip, no alligator is going to grab you and can even go horse-riding in the morning to enjoy the fresh air of dawn. Welcome to Kunda!