With her 'power dressing' suits, pussybow blouses, pearls and solid handbags, the late former Prime Minister – Margaret Thatcher's  signature style was inimitable. In fact Britain's Iron Lady was the first British Prime Minister to have given impetus to British Fashion. In an interview, Thatcher said, "It was time the government ought to show their tremendous appreciation for everything the fashion industry does. It employs 300,000, it does 1 billion exports and I have felt for quite a long time that we don't give them enough government moral support for the tremendous work they're doing."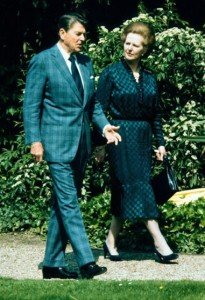 Thatcher was often outfitted by British heritage label Aquascutum. In fact her personal stylist –  Margaret King was an executive for Aquascutum. Margaret King, created many original outfits for the Prime Minister. An avid fan of the pussycat bow, Thatcher had countless blouses, both printed and plain, with long ties. "I often wear bows; they are rather softening, they are rather pretty" she was quoted as saying.
The Iron Lady was quiet a bag-hag. She once described her handbag as the only safe place in Downing Street, and it became a symbol of her style of government. Thatcher's beloved black Asprey handbag fetched £25,000 when it was auctioned at Christie's recently.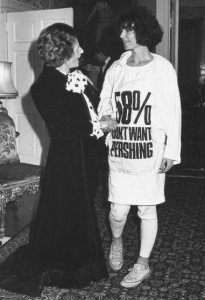 Though Thatcher blew the British Fashion flag and had friends like Zhandra Rhodes and Margaret King from the fashion world, she had haters too. Katharine Hamnett was one of them. Hamnett made an appearance at a Downing Street party in 1984, wearing a white T-shirt emblazoned with the anti-nuclear message – '58 per cent don't want perishing'.
In September 2012, a collection of seven suits worn by Baroness Thatcher in the Seventies sold for a total of £73,125 at auction – ten times the minimum estimate of £7,000.