Before media go all crazy about the red-carpet spotting on the grand steps of the Met for the Met Gala at New York tonight, let's remember the reason it's all happening: to benefit the Costume Institute's "Punk: Chaos to Couture" exhibit, opening to the public on May 9 and goes on until August 14.
Judging by these just-released pictures, the exhibit looks like it's going to be just as exciting as tonight's big party. The exhibit looks at punk's influence on haute couture and ready-to-wear and examines how designers have borrowed the movement's iconic symbols like safety pins, studs, leather, and rips. The exhibit shows more than 100 designs, from original 1970s punk garments to recent fashion pieces.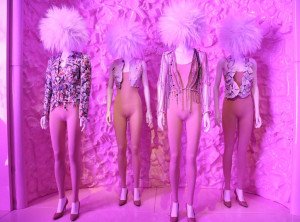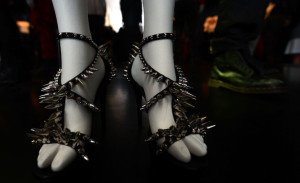 Designers featured in the exhibit include Burberry's Christopher Bailey, John Galliano, former Balenciaga designer Nicholas Ghesquiere, Karl Lagerfeld, Christopher Kane, Miuccia Prada, Givenchy's Riccardo Tisci, Gianni Versace, Yohji Yamamoto, Helmut Lang, Hedi Slimane, and Vivienne Westwood. The exhibit's galleries are dedicated to the different "heroes" who define the genre. Sid Vicious, for example, is represented in the D.I.Y. gallery, while Malcolm McClaren and Vivienne Westwood are the focus of another area.
One eye-grabbing gallery includes a re-creation of the legendary CBGB club's infamous restroom.