American supermodel Kendra Spears became a princess yesterday after marrying the eldest son – Prince Rahim Aga Khan – of billionaire racehorse owner, His Highness Aga Khan IV. The Seattle-born beauty, 25, wore a stunning ivory Manav Gangwani sari with gold embroidery to marry Prince Rahim Aga Khan, 41, in a traditional Muslim ceremony. After the engagement in April this year, the couple exchanged vows yesterday at the Bellerive Castle in Geneva, Switzerland.
It's quiet a coup for Gangwani to bag the task of designing the wedding finery for one of the world's richest royals. Karim Aga Khan and his son – Rahim are one of the world's ten richest royals and international business magnates, with an estimated net worth of $800 million USD (2010). Princess Kendra Spears is an achiever in her own right. She is a supermodel and has worked with all the big-ticket designers and labels. So how did Manav Gangwani get to know the Aga Khan family that has the reputation of being very discreet? When I called up Manav at Geneva, as usual he wasn't forthcoming. Understandable as the royal families make you sign a 'Non Disclosure Agreement' (NDA).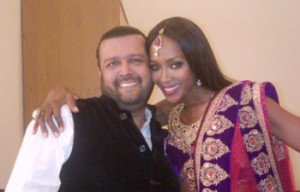 Anyway Twitter came to my help and I did discover that it was supermodel Naomi Campbell who brought Manav Ganwani to Kendra Spears and Prince Rahim. The Tweets says it all:
I do like the ivory sari that Kendra wore and the ivory sherwani donned by Prince Rahim. Kudos to Gangwani. His networking does pay off and if my sources are right, Gangwani is dressing a Hollywood celeb!
PS: Please don't copy this post and publish as yours…