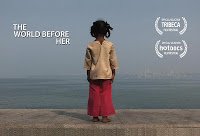 Lately World Press is lapping up the story of an NRI film-maker, Nisha Pahuja's documentary – The World Before Her. The film shows contradictory realities confronting girls in India and is so myopic that it made The Guardian go with this headline:
Women learning to kill or wear a bikini in India.
You can see the extracts from Nisha Pahuja's new award winning feature-length documentary here:
http://www.theguardian.com/world/video/2013/sep/12/world-before-her-women-india-video
The  film is showing the extremes in a very twisted manner. Yes I agree that the facts shown are true but they are not the right yardstick to judge women in India. I presume NaMo – the Hindu Nationalist is already creating a warped perception about India. I didn't like Pahuja's documentary. Let me know what you feel about it.