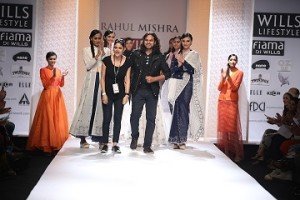 At times you watch a collection of a fashion designer and is so impressed by it that emotions run high and you passionately feel that if this designer had a backing of a venture capitalist, he/she can take on the world. On Day 2 of Wills Lifestyle India Fashion Week, Spring-summer 2014 I felt that way after watching Rahul Mishra's show. It was an immaculate collection that had the perfect symbiosis of tradition Indian textiles used to create contemporary global styles. The innovative surface texturisation, modern application of traditional Bandhni work and Bengal's Jaamdani weave, fine detailing using metal zippers and clean construction made Rahul Mishra's spring-summer 2014 collection a fabulous one.
Designers like Mishra can take on the designers of London, Paris, New York and Milan. Wish they had financial power. Wish India had a 'fashion philanthropist' like Sir Philip Green of Topshop. Fashion Tycoon, Green has nurtured young talent and funded them through corpus funds, sponsoring nextGen shows at London Fashion Week and has pledged to help more and more young people get ahead in the designing and manufacturing of clothes. Sir Philip Green is not doing charity. He is investing in the most valuable asset – creative human resource, which eventually bears him fruit.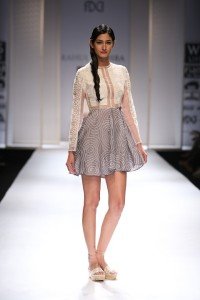 Indian tycoons are are rarely known for philanthropic work. And when it comes to fashion, it's a business very few fund managers understand. We have Kishore Biyani who does invest in fashion but plays safe and goes for brands like Global Desi and Biba, which harldly qualifies as 'fashion'. We have the much-touted L-Capital who would go for iconic names like Sabyasachi and Rohit Bal and after a year are yet to close the deal. We have venture capitalist who are funding illegit E-Commerce business the retails online copy's of Abercrombie, Polo and Hollister. There are no visionaries who would fund a start-up designer label and there are no agency or advisor who can bring design talents and funders together.
It makes me sad. A Rupees 10Crore fund can take two talented designers and make their label reckoned globally. But there aren't any to do such small investments in a safe business but many to sink in millions of dollars on E-Commerce companies sprouting like mushroom.