Does the first resident  Desi Playmate – Sherlyn Chopra  ever put on clothes??? Or is she living in some nudist colony?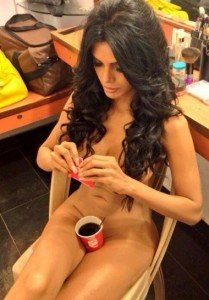 Anyway I just discovered a coffee mug-holder that Sherlyn Chopra should get patented and then make millions. I am amused at the strategic placement of the coffee mug by the ingenious Sherlyn Chopra. Wondering if Desi Playmate has placed the cup of coffee to warm it up or is it the other way around…
Guys what do you think? Is Sherlyn warming up the coffee or it's vice versa? Hoping she doesn't spill the coffee though!