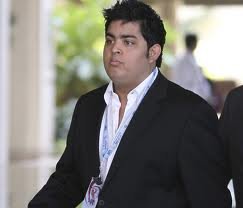 An Aston Martin with License Plate – MH-01-BK99 rammed into an Audi and then a Toyota Corolla at high speed at Mumbai's Peddar Road, injuring three people seriously. The Aston Martin is registered under Reliance Ports.
Foram Ruparel, the driver of the Audi car claimed that the Aston Martin was being driven by Akash Ambani, the son of Mukesh Ambani. Ruparel said that her Audi was hit at such great speed by the Aston Martin that her car jumped the divider and hit a bus. The speeding Aston then hit a Toyota Corolla owned by Vikram Mishra.
Police claim that the driver of the Aston Martin fled from the sscene after the accident. In fact the alleged driver – Akash Ambani drove his Aston while fleeing but had to dump the car as one of the tyre came off.
Foram Ruparel sense police bias already protecting Akash Ambani and said that when the Aston Martin was taken to the police station, they covered the car so as to not reveal the license plate. Reliance Industries Limited spokesperson issued a statement that the car belongs to Reliance but was being driven by a driver of the company who was going to park the car when the accident happened.
Will the truth come out or once again money power will protect a rich kid?