This is a 108.168.206.104/~fashions/ exclusive! It is now confirmed that Aishwarya Rai Bachchan, Abhishek Bachchan and daughter Aradhya has moved in to their own house – AMMU in JVPD, Juhu.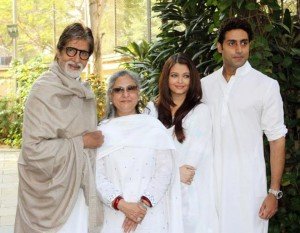 The couple moved out of Jalsa in the last week of December 2013. Ash-Abhi lived with Jaya and Amitabh Bachchan since they got married in 2007. It is almost eleven days now for Aishwarya and Abhishek at their own home. Two days back grandfather, Amitabh Bachchan got Aradhya to Jalsa in the afternoon for some quality time with the grand-daughter.
Against all speculation that Ash-Abhi moved out because of friction between Jaya and Aishwarya may not be the real story. The real fact is Jaya Bachchan can't stand Vrinda Rai, Aishwarya's mom. Anyway everybody needs their own space and living with parents post marriage is not always easy. Hope Ash-Abhi's new abode gets them more happiness!