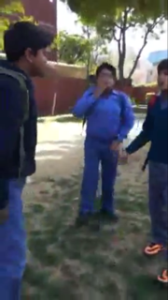 After the disgusting bullying activity in Modern School, Vasant Vihar went viral on the social media, the school management had to take some action. In fact there were five not four class VI students who bullied a class VII student. The Modern School management seems to have taken action against 3 of the 5 bullies.
Two prime bullies have moved to The British School and one has joined the Pathways School within 24 Hours of their rustication from the Modern School. Wonder what happened to all that big-talk about 'zero tolerance' on bullying in European and American Schools? Did it not deter The British School from taking in the two bullies rusticated from the Modern School? Did they get swayed in by the money power and clout enjoyed by the parents of these bullies? Suryavansh, the son of the copy-cat designer duo is among the two who has joined the British School and the Gutka baron's son has moved to The Pathways School, which claims to be an international school.
I just hope that the kids at the British School and at Pathways are safe. By the way I also discovered that these bullies carried the reputation that they are powerful and can get away with anything. In fact that's what many kids from the school told me. They came to school in fancy cars and with bodyguards and literally polluted the atmosphere. Shame on the parents of these kids, who I believe is enjoying the sudden attention they are getting.