We scribes are a weird lot and are often biased. When a big-ticket designer indulges in copying a design, we prefer to call it 'inspiration' and if the same is done by a relatively smaller name, we go all out to call him a copy-cat. Now that Wills Lifestyle India Fashion Week (WIFW) Fall-Winter 2014 is starting today, we will invariably see some copy-cats.
I chanced upon this amazing website – Part Nouveau that is strong on fashion history and has come out with blatant copies by some top international names. I reproduce some of the site's content here: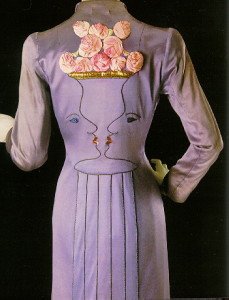 MIU-MIU Copied SCHIAPARELLI: Elsa Schiaparelli's transgressive designs were often inspired by the surrealists. A violet, satin evening coat was the result of Schiaparelli's collaboration with Jean Cocteau in 1937 and was almost certainly the 'inspiration' for a jacket seen on Miu Miu's SS 2014 runways–almost a year after the Costume Institute's exhibition – Schiaparelli and Prada. Blatant copy or Miuccia Prada was inspired by Schiaparelli???
JEAN CHARLES de CASTELBAJAC Copied YSL: A year after Yves Saint Laurent debuted his Mondrian-inspired shift dresses, the designer continued his appropriation of art into fashion with his Fall/Winter 1966-67 "Pop Art" dresses. This crop of dresses featured the female figure printed atop columnar shaped gowns, perhaps suggesting the nude body beneath the cloth. For Jean Charles de Castelbajac's SS 2014 show, the designer featured a dress with an uncanny resemblance to YSL's 1966 version.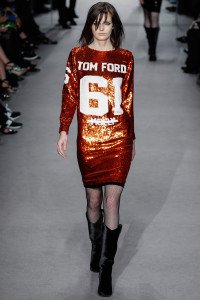 TOM FORD Copied GEOFFREY BEENE: Beene would employ a simple jersey in the design of an evening dress and also looked to sports and activewear for fashion inspiration. A 1968 black beaded gown typifies the designer's playfulness: An otherwise run-of-the-mill shimmery gown is emblazoned with a glittering gold jersey number, transforming the football uniform into an evening dress. For Tom Ford's fall 2014 collection, the designer cited the 1960s and the Southwest as inspiration, sending down a pair of sparkling shift-dresses, also beaded in the style of a football Jersey — undoubtedly, a throwback to Beene's well-known football frocks.