I fear that day is not far away when like the quintessential Indian Bandhgala, the Sikh Turban would be taken over by the western fashion world. Well the Sikh Turban has already inspired Karl Lagerfeld in 2010 to send down male models on the Chanel show donning turbans. Lagerfeld however called it 'Murban' (Male Turban). Jean Paul Gaultrier's entire spring/summer 2013 menswear collection had models donning the traditional Sikh turban.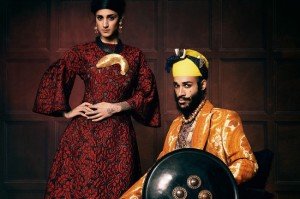 Last night I saw our very own designer JJ Valaya put up a picture of Jatinder Durhailay donning a LV monogrammed turban. For the uninitiated, Jatinder is the latest Sikh model making the waves. He was featured on the front page of the Financial Times modelling for the new Louis Vuitton campaign, and this was just days after the Gap advert featuring another celebrity Sardar – Waris Ahluwalia.
In the LV campaign, Jatinder Durhailay wore solid yellow and navy-blue turban with rich brocade Vuitton jackets. But the picture of him where he has used a large LV scarf to tie-up as a turban might just go viral with the 'Puppy Punjabis'. I am sure I will spot a few very soon. God save me from the probable onslaught of 'Murban' logo-mania!