Now that the Fall/Winter 2014 runway shows in New York, Milan, Paris and London are over, it is quiet obvious to narrow down on the trends that will dominate the fall/winter 2014 fashion. The year has witnessed new and old talents from around the globe, all presenting the latest that fashion has to offer, including 3D-printing, hybrid clothing and the season's color of choice.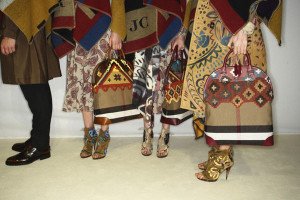 Fashionistas will have a great time to select from varied styles, ranging from gothic to medieval, floral to androgynous and everything in between. The fall street style can expect anything from revamped varsity gear, color contrasts, boyfriend coats to pastels and of course, a positive attitude. Also in the forthcoming Wills Lifestyle India Fashion Week (WIFW) Fall/Winter 2014 starting on the 26th of March, we will see who all adhere to the global trends that emerged from the runways of Milan, Paris, New york and London.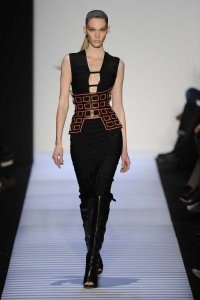 AVANT GARDE STYLES: This coming fall, fans of Herve Leger designs can strut out in age-corset belts, car wash hems and navel-baring cutouts. The texture of these exotic pieces of clothing come with 3D jacquard's and pixelated metal beading. Complete with apparel for the more conservative women, this collection also features simple crop tops paired with pencil skirts. ThE collection doesn't stray far from its dark and neutral hues except for the occasional pops of white and orange. Every year Herve Leger seems to top the collection before it with an even more lustful — yet sophisticated — take on bondage apparel.
GENDER DIVERSION: Prada presented a collection where the menswear-inspired coats added dimension and contrast to the feminine frocks. The mix and match of feminine-masculine motifs were quite charming. The Prada Fall 2014 Collection was moodier, darker and managed to be both kooky and calculated. A clash of prints, oversized silhouettes and layered fabrics with slinky, bright dresses peeking beneath large printed coats were interesting.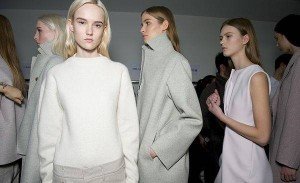 SEAMLESSLY SARTORIAL: The Jil Sander fall 2014 Collection was clean and pocketless. All the garments in the collection were beautifully cut and crafted. The collection featured Sander's signature clean lines, but were softly updated with tucks across shift dress fronts. In longer dresses were taught at the hips, but loose around the chest. The palette ranged from deeply muted pastels – sea green, lavender or pink grapefruit. As a whole, the collection was subtle, soft and lovely. Jackets and dresses were as clean as can be with no pockets or visible seaming.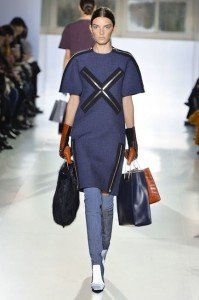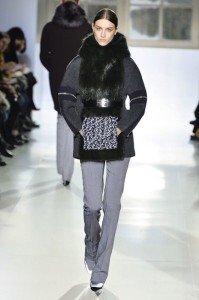 STRUCTURED KNITS: Designed by Alexander Wang, the stunning collection is the designer's third collection for Balenciaga. Showing off his flair for visual aesthetics, the designer used a lot of urban detailing like exposed zippers, texturized leather coats and laser-cut dresses. The collection also featured Wang's beautiful knits, which ranged from cropped versions with fur stripes to beaded sweaters combined with structural silk tops. Alexander Wang with his beautiful cuts and quality fabrics made the Balenciaga Fall 2014 collection a big hit.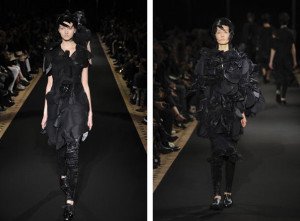 CIRCULAR CONSTRUCTION: Japanese designers create cult fashion and though they may not find favor with all, I am particularly fond of Japanese designers. Junya Watnabe's fall/winter 2014 collection created a buzz in Paris. Continuing with the gothic-style theme, the Junya Watanabe had his women clamped into closely fitting skullcaps. Wool netting, tulle and even flashy sequins were employed as raw materials for his artistic canvases. Early on in the collection the designer's circle constructions were featured, then moving to triangles, waves and petal shapes. These cuts exhibited the diversity of the materials on tunics, ponchos, capes and skirts.