Peaches Geldof, second daughter of musician Bob Geldof and the late Paula Yates, has died aged 25, leaving a husband and two sons. Police, who were called to an address in Kent around lunchtime on Monday, say the death is currently being treated as "unexplained and sudden". In a statement, Kent Police said: "Police were called at 13:35 BST on 7 April, 2014 to an address near Wrotham following a report of concern for the welfare of a woman. A woman aged 25 was pronounced dead by South East Coast Ambulance Service.Officers are working to establish the circumstances around the death."
Speculations are rife about the mysterious death of Peaches Geldof, especially as her last Tweet was posted on Sunday, linked to an Instagram picture of her, as a baby, in her mother, Paula Yates' arms. The caption simply read: "Me and my mum." Peaches never came to terms with her mother, Paula Yates' death. She died of Heroin overdose in September 2000. "I remember the day my mother died, and it's still hard to talk about it," Peaches told Elle in 2012.
In the young age of 25, Peaches Geldof had accomplished a lot. Born in 1989, Peaches Honeyblossom Geldof embarked on a media career at the age of 15, when she began writing a column for Elle magazine. She left home at 16 and went on to contribute to the Telegraph and the Guardian, as well as hosted TV shows including ITV2's OMG! with Peaches Geldof. She also worked as a model and, just last week, attended a launch for Tesco's F&F clothing range in London.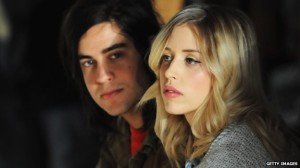 Bob Geldof released a statement –  "How is this possible that we will not see her again? How is that bearable? We loved her and will cherish her forever. How sad that sentence is." Peaches husband, Thomas Cohen too said, "My beloved wife Peaches was adored by myself and her two sons. I shall bring them up with their mother in their hearts everyday. We shall love her forever."