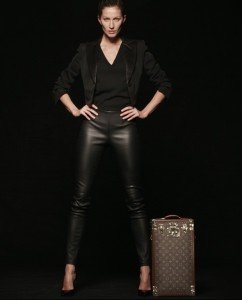 Brasil, the host of the 2014 FIFA World Cup couldn't even secure the third place after they were beaten 2-0 by the Dutch. It's a sad story for the host nation. But don't be so disappointed as Brasil is also famous for Bundchen – Gisele Bundchen besides the boobs and booties. Gisele will unveil the trophy before today's final match at the Estadio Marcana. With her will be Carles Puyol, one of the stand-out players of the Spain side that triumphed at the last edition at South Africa 2010.
Gisele Bundchen, who is also the brand ambassador for Louis Vuitton will carry the 18-Carat gold trophy in a tailor-made Louis Vuitton travel case, commissioned specifically for this purpose by FIFA in 2010. Here is the video released by Vuitton to promote its heritage steamer leather trunks: http://youtu.be/SBSbyqlzg-0
Let us see if Messi manages to keep the FIFA Cup for Latinos to be proud or Germany takes it to Europe!