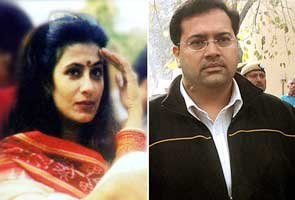 Manu Sharma is serving a life sentence in Tihar Jail for the murder of Jessica Lall. He has been enjoying undue favors from the jail staff and spends most of his time outside Tihar on parole. Few years back when Manu Sharma was granted parole on the grounds of his mother being unwell and was spotted partying in Are in Mumbai and LAP in Delhi. 
These days it is stated that Manu Sharma spends most of his time in Piccadily Hotel (Formerly Hilton, Janakpuri) owned by his politician father, Venod Sharma. Neeraj Sharma, who is the son of P.C. Sharma, a warden in Tihar Jail is employed at the Piccadily Hotel and whose job is to ensure absolute secrecy of Manu Sharma's stay at the hotel. In fact a floor of the hotel is not accessible by the public elevators and has a dedicated elevator to that floor accessible only by few.
It is an absolute travesty of law that an inmate who is sentence for life for killing enjoys the luxury of a five-star accommodation. In fact the buzz is that politician and father of Manu Sharma, Venod Sharma bought over the Hilton, Janakpuri because it is located in the close proximity of Tihar Jail. I spoke to some unsuspecting staff at the Piccadily Hotel who confirmed often spotting Manu Sharma at the hotel.
It's such a mockery of law. Venod Sharma was earlier with the Congress party but later formed his own party – Janshakti Party and formed an alliance with the BJP during the Lok Sabha Elections. Yesterday however his Janshakti party and Kuldeep Bishnoi's Haryana Janhit Party severed their alliance with BJP as Modi wasn't giving them much importance.