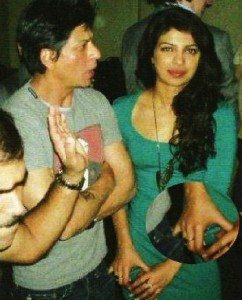 I still haven't got my finger on that one thing that Shahrukh Khan has for the female singers. Wonder what it is! SRK's soft-corner for Priyanka Chopra, especially when she was trying to establish herself as a singer is now a well-debated story. People got them married too. But yeah Shahrukh went all out to help Priyanka Chopra wether it was helping her to tie-up with Pit Bull or Akon or helping her with top-notch producers in the US.
Now Shahrukh Khan is doing the same with one-song-wonder, Kanika Kapoor. He got her the gig at IPL gala in Abu Dhabi and also a song in his movie – Happy New Year. Kanika did the 'Mohini' number , a-la Tezaab for Farah Khan's Happy New Year. I have attached a small video clipping of Happy New Years promo where SRK takes Kanika's name. Have you ever heard Shahrukh take a singer's name in a movie promo? Forget him taking a singer's name, he hasn't ever taken the name of the movie's music director(s) ever! Here is the video: SRK2
It is not easy to make a foothold in Bollywood but with backers like SRK, Kanika Kapoor is having a dream run. Kanika has signed up with the Moranis' Cineyug for international shows and Shahrukh has advised her to have some other promoter for the India market. In fact it is SRK who helped Kanika for an album that's going to feature Kanika with comedy-king Kapil Sharma.