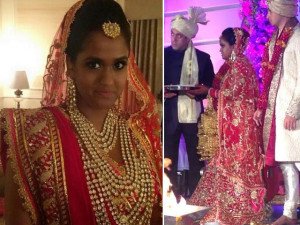 First of all let me congratulate Arpita Khan and Ayush Sharma on their wedding. May the divine powers keep them together forever. Now that the wedding is over let me share some inside story. Abu Jani and Sandeep Khosla were entrusted with the task of making Arpita Khan's trousseau. I am sure the duo made millions out of it.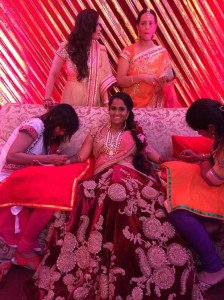 However when Sandeep Khosla went over to Arpita to deliver the wedding outfits, she did not like the way the ensembles turned out to be. We all know how important it is for the bride-to-be to look her best on her biggest day and Arpita definitely did not like what she tried. Evidently she was upset and she had all the right to be. Sandeep Khosla is not the kind to accept his flaw. He rather blurted out the worst thing one can ever utter to a bride-to-be. He blamed the lehenga's look and fit on Arpita's size and shape. Come on, who in their sane state would say such a thing??? Besides when Abu-Sandeep took the task of making Arpita's trousseau, they must have had taken measurements. So why blame their bad creations on the bride's size? I must say it is the most offending comment a designer could had made to a bride .
Sandeep Khosla's profane comment brought tears to the eyes of Arpita Khan. Her dearest brother, Salman Khan couldn't see tears in his darling sister's eyes and was hurt when she narrated what the designer told her. Salman was hopping mad. I too would be! Sandeep Khosla was literally shitting bricks. He ran to to his Godmother – Jaya Bachchan to seek her help to soothe the frayed nerves of Salman Khan. Last I heard that Jaya auntie did manage to calm down Sallu bhai but Abu-Sandeep can't get away by doing a bad job and blaming it on the customer.