Robyn Lawley is a famous 24-year-old Australian 'plus-size' model who is now based in New York. You must be wondering why a model would strip when Prime Minister Narendra Modi visits Australia. Robyn's no fan of Modi but she along with many 'Greenies' are very upset with Adani Group's Carmichael Coal Mine that is coming up in Queensland's Galilee Basin.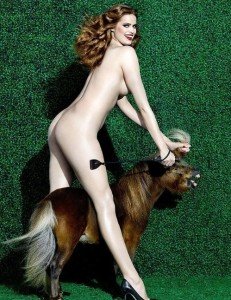 Environmental groups are against Adani's multi-billion dollar coal mine project because the mining will need shipping and that would require dredging that will destroy the Great Barrier Reef. When the Australian government approved Adani's project, model Robyn Lawley protested by posting a naked selfie with the words "stop coal mining" scrawled on her stomach. Wonder what happened to NaMO's 'Make In India' Mantra??? Does it not apply to mining?
Lawley displayed her angst with the mining company by posting an extended diatribe on Instagram. It read in part:
"Woke up this morning to find out that our Environmental minister and the abbott government have approved what will be the biggest mine of Australia. Carmichael mine will cover an area seven times that of Sydney Harbour. The only way to get coal out of Carmichael mine is via the Great Barrier Reef. Millions of tonnes of seabed will have to be dredged and dumped in the World Heritage Area to make way for port expansions to service this mega-mine."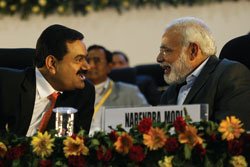 Her attention then turned to alleged corruption at the highest levels of government.
"Minister Hunt knew the company behind the mine, Adani, had a dirty track record. In India, Adani has been investigated and fined for illegally building on villagers' land and destroying protected mangrove areas. An investigation by the Karnataka anti-corruption ombudsman exposed Adani Enterprises' active involvement in large-scale illegal exports of iron ore at its port, resulting in "huge" economic losses to the Government. Documents seized from Adani's offices revealed the company was paying cash bribes to port officials, customs, police and local pollies in exchange for 'undue favour for illegal exports."