The phenomenon of counterfeiting is as old as couture itself. In the early 1900s, fashion forgers often sketched designs they saw in Paris shows and sold reproductions in France and overseas. By 1914, more than two million fake couture labels had been sewn into garments, several of which are currently on view in New York City at the Museum at FIT's exhibition, "Faking It: Originals, Copies and Counterfeits." Authenticity and copyright protection against knock offs are two of the most debated topics in fashion today. Faking It: Originals, Copies, and Counterfeits investigates the history of both authorized and unauthorized copying, as well as the various factors that have led to grey areas in authenticity.
The Exhibition is on at the Fashion & Textile History Gallery since December 2, 2014 until April 25, 2015. I recommend our designers to visit the exhibition!
Couturiers such as Madeleine Vionnet implemented various initiatives to stop knock offs of her designs, such as marking her label with her thumbprint in order to authenticate each creation. Unfortunately, this did not entirely discourage copying, as can be seen in an unauthorized reproduction of her "Little Horses" dress from 1924. Likewise, in an effort to battle unauthorized copying during the 1930s, the Fashion Originators' Guild of America registered fashion designers' work. An example of a black fringe evening dress with the registered label and sketch is included in Faking It. From its inception, the Chambre Syndicale de la Haute Couture struggled with maintaining the exclusivity of haute couture, while promoting it through press coverage and licensed copies. When the couture industry began to re-stabilize after World War II, the struggle intensified. The high demand for Christian Dior's famed 1947 collection led to many unauthorized copies of his silhouette. Faking It uses a Nettie Rosenstein dress from that same year to illustrate such copying.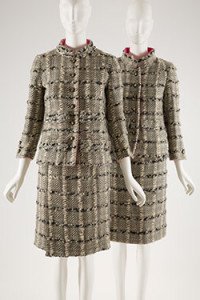 Chanel once said, "Fashion should slip out of your hands. The very idea of protecting the seasonal arts is childish. One should not bother to protect that which dies the minute it is born." Chanel's tweed suits were so recognizable, she saw copies of her designs as a form of publicity. A selection of six Chanel originals and copies from the 1960s to the 1980s will be featured. The 1990s ushered in the era of logo mania and the mass production of counterfeit goods. A special display case in Faking It places authentic designer bags next to their corresponding counterfeits.
At his fall 2007 runway show, Yohji Yamamoto debuted a newly created "YY" logo that was featured prominently on a number of garments and pieces of luggage. The logo was remarkably identical to the familiar Louis Vuitton monogram, and some audience members thought it was referencing Vuitton's origins as a designer of luxury luggage. Was Yamamoto mocking the French brand? Was he making a comment about consumerism? Or was he applauding the power of a venerable luxury brand? No lawsuits resulted from Yohji Yamamoto's new logo, but it did flirt with crossing the line of trademark infringement. More recently, Los Angeles designer Brian Lichtenberg created a witty interpretation of the Hermes logo with his "Homies" collection (an entire "Homies" ensemble is featured in Faking It). Fashion lawyers are still debating whether this is a case of trademark infringement or protected speech as legitimate parody.