London based NRI tycoon Rishi Sethia and his lady-love, Mumbai's social butterfly – Queenie Singh are not tying the nuptial-knot anytime soon. First it was announced that Rishi will wed Queenie in February 2015. It got pushed back to June 2015 and now news is percolating that wedding plans are only in December of 2015. A li'l birdie chuckled that the bookies are laying bets on the odds on wether Rishi Sethia and Queenie Singh will ever marry.
Both, Rishi Sethia and Queenie Singh are believers in serial datings and relationships. Queenie is infamous for stealing her best friends' husbands/boyfriends and Rishi too has similar reputation. Queenie married her then best friend-Rita Dhody's husband, Raja Dhody. Then she fell in love with her best friend, Anju Taraporewala's husband – Farhad and caused a split. Post a few years with Farhad, Queenie laid her eyes on yet another friend – Gunita Sodhi's then boyfriend, Rishi Sethia. As of now she is going strong with Rishi. Who knows what future has in store!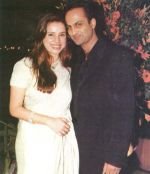 Rishi Sethia too had his fair share of relationships. He was married to Bollywood actor Neelam Kothari. Post their divorce, Rishi hooked up with yet another B-Town starlet – Sophie Choudhary before going steady with Gunita Sodhi. While with Gunita, Sethia maintained his casanova ways and had flings on the side. Perks or perils of long distance relationship I guess! Now with Queenie Singh for a considerable length of time, wonder why Rishi Sethia keeps pushing the planned marriage.