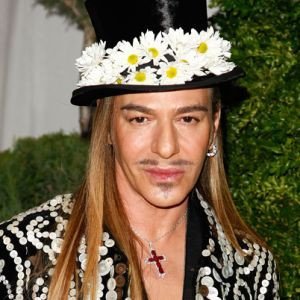 John Galliano presented his debut collection for Martin Margiela as its Creative Director in London yesterday. Earlier it was announced that Galliano will make his comeback with Margiela at the forthcoming Paris Couture Week but for some reasons Maison Margiela decided to have the show in London. The collection will be shown at the Paris Couture Week too.
Undoubtedly the expectations were very high from John Galliano making his return to the fashion scene after a long hiatus. His debut collection for Martin Margiela was great and Galliano kind of lived up to the expectations. He stuck to some Margiela 'norms' like covering the faces of the models with red tulle and some devilish masks.
John Galliano's signature bold and unapologetic style was evident in his debut collection for Martin Margiela like the exaggerated cuffs on the swing coat, rubberized leggings and shoes shaped like hoofs. Interestingly there were some uncomplicated and wearable pieces like cargo jacket worn inside out and turtle neck vest-jacket. All in all the 'artisanal' Martin Margiela collection by John Galliano was great and make us wanting more from the enfant terrible of Couture!