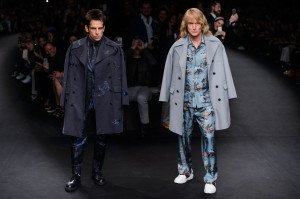 Yesterday at the Paris Fashion Week Autumn/Winter 2015, Hollywood Stars – Ben Stiller and Owen Wilson were the showstoppers at the Valentino Show. The duo famous for the movie – Zoolander are doing the sequel of the famous satirical flick on fashion. Paramount Pictures stated that the model walk-off was to launch the sequel to the film. Zoolander 2 due for release on February 12, 2016.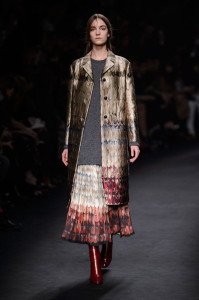 Stiller wore a black brocade two-piece suit with a coat slung over his shoulders. Wilson was in a slinky blue silk pyjama set with a pale grey coat, also worn across his shoulder. Call this method acting at its best. The maestro – Garavani Valentino posted pictures of Stiller and Wilson and wrote, "Marie Antoinette once said, 'Let them eat cake.' Derek and Hansel have certainly devoured this runway."
As usually happens with putting film-stars on the runway, not many wrote about the Valentino AW 2015 collection. It was all about Ben Stiller and Owen Wilson and Zoolander 2. Anna Wintour was busy posing with the stars. We in India know this too well. However Chiuri and Piccioli, the creative team at Maison Valentino sent out a nice collection of jackets belted at the waist and paired with narrow black skirts, monochromatic checkerboard and striped trenches, and lot of patchwork fur coats with wool backs.