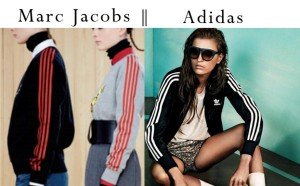 Though the bridge line of Marc Jacobs – Marc By Marc Jacobs is discontinued now, it is still in the news. In a complaint filed with the U.S. District Court in Oregon, Adidas accused Marc Jacobs of trademark infringement and dilution, unfair competition and deceptive trade practices. The items in question are pieces from Marc by Marc Jacobs's autumn/winter 2014 collection that feature four stripes down each sleeve. Adidas claims that the Marc by Marc Jacobs pieces are of the same motif, other than the additional stripe (Adidas has three stripes), and that the Marc Jacobs-owned label "intentionally adopted and used confusingly similar imitations of the three-stripe mark knowing that they would mislead and deceive consumers into believing that the apparel was produced, authorized, or licensed by Adidas, or that the apparel originated from Adidas."
The sweaters at hand were Katie Hillier and Luella Bartley's designs for Marc by Marc Jacobs.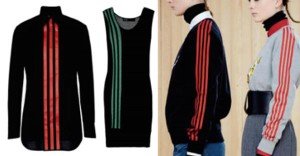 It is fair to say that majority of the world knows the Adidas trademark. This is more than likely an oversight from the Marc by Marc Jacobs team but one thing is certain, someone needs to be fired because this is a slip up that a fashion brand should never let happen.