Most of you must be familiar with the 'Ladies Night' concept that is usually adopted by nightclubs and bars as a promotion to lure in patrons by offering free drinks for the 'ladies'. Wednesday seemed to be BJP's 'Ladies Night' (Co-incidentally Wednesday is the preferred day for 'ladies night'.) as four lady ministers were embroiled in some scam or allegation. Sushma, Vasundhra, Smriti and now Pankaja kept BJP busy on Wednesday.
Minister for External Affairs, Sushma Swaraj who showed 'humanitarian' gesture to the alleged absconder, Lalit Modi to travel out of UK has now twisted and changed her stance by suggesting that the 'humanitarian' gesture was shown for the 'lady' – Minaal and not her hubby, Lalit Modi.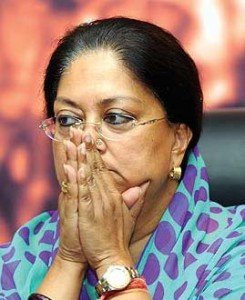 Vasundhra Raje's ultra-secret support as a witness to the much-wronged Lalit Modi to avail UK Residency hardly remained a secret as it blew-off on her face. Definitely engineered by the man whom she was helping.
HRD Minister, Smriti Irani sometimes say that she is a Bachelor of Arts (BA) and sometimes totally change the stream and becomes the Bachelor of Commerce (B. Com). Most ludicrous bit is that Smriti Irani claims to be B. Com, Part 1. What bullcrap is 'Part 1'? If you drop out after the first year of a three-year degree course, you are not B.Com, Part 1 but just a 'Class XII' pass. Court has accepted the PIL against HRD Minister for consideration. Egg-on-the-face for a minister who oversees the nation's education policy.
Lastly Pankaja Munde, the minister in Maharashtra Government gave out contracts worth Rupees 200 Crores plus on a single day without the mandatory tendering process and the whole thing is smelling of many bunglings.
The four ladies had a great 'ladies night', enjoying absolute free hand. Rest of the BJP kept mum and even their ideologues – the 'Boys Only' club in khaki 'half-pants'  had no sermons to offer. Enjoy!!!
PS: Also read this post from April 2014 that LaMo has copyrighted now: http://wp.me/p1C8a1-r4V