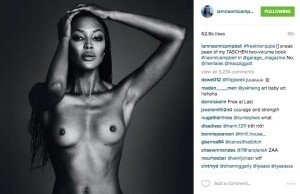 Supermodel Naomi Campbell too had to face the wrath of Instagram's 'no nudity' policy. Instagram allows men's nipple but showing women's nipple is an absolute NO. Objecting to this gender bias the celebs initiated the #freethenipple campaign last year but still has not managed to cut ice with Instagram.
Naomi Campbell was the latest to join #freethenipple campaign that found support from Miley Cyrus, Cara Delevingne, Rihanna and many more. She posted a  black & white top-nude picture of her tastefully shot by the ace duo of Mert & Marcus on Instagram but within hours it was removed.
The black and white portrait, taken from Garage magazine, is a sneak peek of her upcoming two volume TASCHEN book, and was shot by renowned photographers Mert Alas and Marcus Piggott.