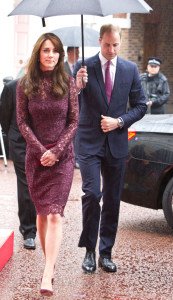 I always found the Duchess of Cambridge, Kate Middleton's fashion quotient impressive. Yesterday the Duchess committed a fashion faux-pas (more in political terms) by wearing an Italian label – a sheer lacy dress by Dolce & Gabbana for the event celebrating British and Chinese culture. Kate promotes English fashion labels whenever she is traveling overseas. Wonder why she opted for an Italian label than an English one. If she would had worn a Chinese designer, it would had earned her brownie points in diplomacy. Huishan Zhang, a Chinese designer based in London is dressing many high-society Londoners.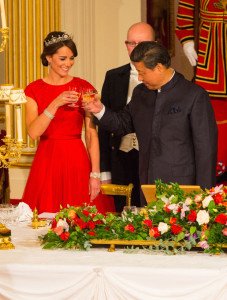 Kate Middleton has mostly worn English designers when she visited the US and Australia. For the lavish state banquet to honor President Xi Jinping of China at Buckingham Palace, the Duchess wore a lovely red Jenny Packham gown with glittering embellishments and a sparkling Lotus Flower tiara  — passed down to her from the Queen Mother and Princess Margaret.
Fashion Press trashed the red gown and tiara look of Kate Middleton and drew a parallel that she was dressed for Halloween. But I think wearing the tiara was more of a Royal family protocol than her personal choice. After all she was seated next to her mom-in-law, the Queen who wore a more elaborate head-piece.
The sheer Dolce & Gabbana dress that Kate Middleton wore would had been risqué if it weren't for the modest slip. Minus the slip Jackie Chan and President Xi Jinping would had been fixated on her. Chinese men are infamous for their unbridled libido!