The Amazon India Fashion Week Spring-Summer 2016 ended with its customary grand finale multi-designer show that 'revisited Benaras'. Wonder what BJP Spokeswoman, Shaina NC was doing on the ramp? Is she the 'official appointee' of Varanasi Weavers??? If yes then it's the government's way of rewarding loyalists. Shaina gave a lecture on 'Make In India' and all that crap but she should have known that all the designers that showcased their collections over the past five-days were 'Made in India' and not just the finale garments. Enough of propaganda please.
Anyways I am angry because none of the new government's projects to revive weavers of Benaras has borne results. In fact government's textile policy is very anti handloom. But let politicians pay politics and not interfere in fashion.
My personal favourites in no particular order were the work of following designers: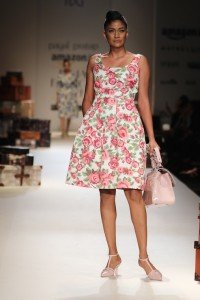 Payal Pratap mesmerized me with her collection of classic feminine silhouettes comprising of pretty frocks, stylish separates and fluid halter dresses. Flowers bloomed on her ensembles in form of pixilated cross-stitch embroidery on soft pastel hues. Lots of laces, structured construction and an uber feminine feel of Payal's collection was enigmatic.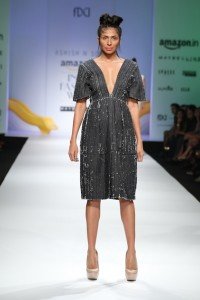 Ashish Soni is great with structured clothes and the well tailored jackets, trenches and contoured dresses in enzyme/acid washed denim were sooo international. Frayed textures, innovative detailing and neat construction made the collection one of top ones in this fashion week.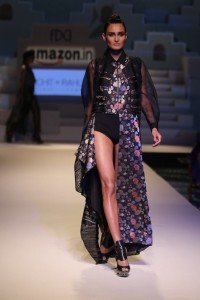 When it comes to a collection that is totally Global in look, nobody beats the duo of Rohit Gandhi + Rahul Khanna. Their collection also flaunts immaculate finish. The intricate texturisation coupled with architectural construction that create structured fit and voluminous fluidity in form of folds add to the look.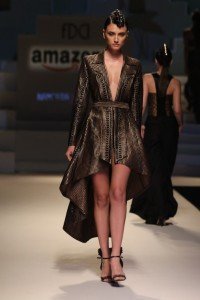 Namrata Joshipura did not showcase her collection this time but she showed three ensembles in the finale show and the gold Benarasi coat-dress was simply awesome.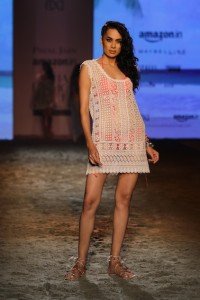 Crochet dominant collection of Payal Jain was beautiful. Lot of Chantilly laces and crochet work gave her resort look a sexy edge.
The couple – Hemant and Nandita are evolving with every season. If last season I was disappointed by the loudness of the 'carpet embroidery', this time I liked the pop-art take on big floral embroidery. The calculated placement of of utility pockets broke the madness of acid colours.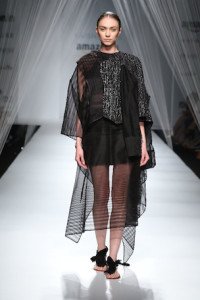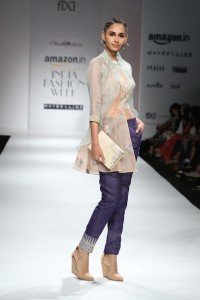 I also liked some pieces from Pallavi Mohan. Have been watching her for few seasons now. Anand Bhushan also did a good sporty collection with perforation, layering and topped them with clean construction. Chhaya Mehrotra's Benarasi Denims were fabulous. Rabani and Rakha's saris were beautiful, particularly the ivory ones with tonal work. Eka and and Vaishali S are talents to watch out for.