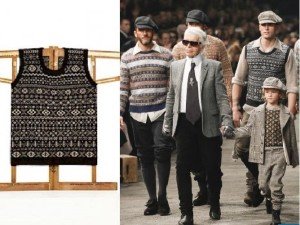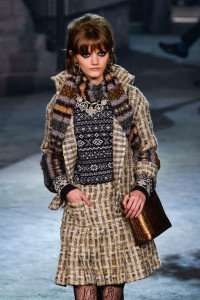 Chanel is coming under fire for allegedly copying garments that were shown as part of its 2015 Metiers d'Art collection. The Paris-based design house showed the collection, which is meant to showcase and "honor the fine craftsmanship that its artisan partners bring to the house's collections," on location in Rome last week. Among the roughly one hundred looks, Fair Isle, Scotland-based knitwear designer Mati Ventrillon, says a number were copied from ones that Chanel's research team purchased from her this past summer. The garments at issue take the form of women's and men's sweaters – such as the one shown in the pictures.
Mati Ventrillon took to her Facebook  & Instagram account to write the following: "Earlier this summer two Chanel staff visited Fair Isle and bought some of my stock garments with the understanding that the garments were for research. I specifically said that I was going to sell it to them because of the reputation of Chanel house and because I would not expect them to copy my designs." Distinguishing between "traditional Fair Isle patterns" and designs that are original to her, Ventrillon said: "The black and white design and the pattern arrangement is my design. I designed that garment for the Queen's Jubilee celebrations in 2012 as part of Oxford Street Fashion Flags Campaign."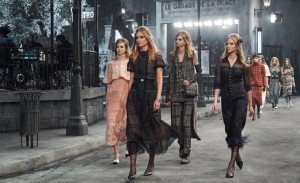 Ventrillon is not the only one who is outraged. Gary Robinson, Political Leader of Shetland Islands Council, called Chanel's behavior "shameful copying." Additionally, he reached out to Chanel via Twitter, inviting creative director, Karl Lagerfeld, to discuss the matter with him. Robinson suggests that Fair Isle knitwear company should seek legal protection for its name, like Harris Tweed, which is the only fabric in the world to enjoy legal protection stemming from its geographical status. Chanel is absolutely mum on the matter but from the photographs, it is evident that Chanel just blindly copied Ventrillon's knitwear pattern.