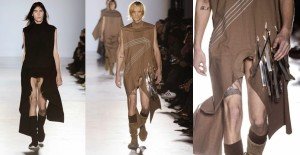 The autumn/winter 2016 menswear fashion week is on in Paris. Last year menswear fashion shows were in news for 'male objectification'. Rick Owens' controversial AW15 collection saw penis-flashing tunics and peephole flaps in an otherwise monastic line of capes, robes and pea-coats. Owens' said, "We all know that runway looks aren't meant to be taken literally, they illustrate an ethos. I would like to present a utopian world of grace free of fear and shame.". Who can argue with that?
During the New York Fashion Week last year, brother-sister design due MT Costello decided it was their turn to champion the male nudity trend. They sent just one male model down the runway wearing an embossed bathrobe and two glittering snake bracelets. Before leaving the catwalk, the model dropped his robe low in the back to give the audience a final farewell glimpse of his backside. Did it add to the aesthetic of the collection in any way?

Bcalla had taken the trend to the absolute extreme by hiring gay porn stars to model in the lookbook for their fall winter 2015 collection. Bcalla unashamedly knows it's aesthetic. This is clothing made for the club kids – crazy colours, spandex and cut-outs. Is Bcalla  promoting male objectification or as Owens said-" it's an ethos"?
Alicia Framis, a women's bag designer thought of presenting the bags in a way that really just puts all the focus on the bags! Did nude male models make perfect sense? Lets be honest here – nobody was looking at the bags. As Rick Owens said  – the runway is meant to illustrate an ethos. What is this designers ethos? This was clearly done to grab headlines. Here is the video of the show: https://vimeo.com/103227182