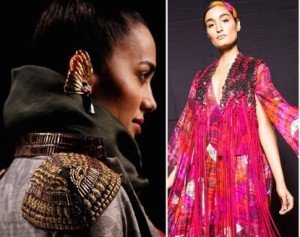 No the fashion designers are not strangulating the fashionistas, rather they are alluring them with fancy clothes with fancier necklines. It's not easy for designers to churn out something new every season. They oscillate between minis and maxis, leg-of-mutton sleeves and bell cap sleeves or palazzos and cigarette pants.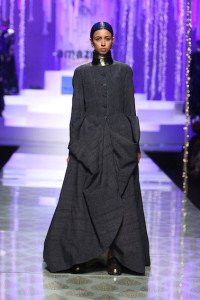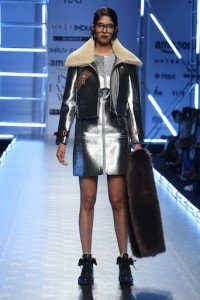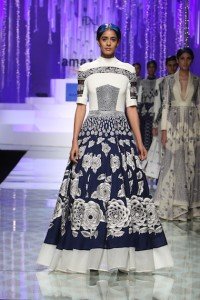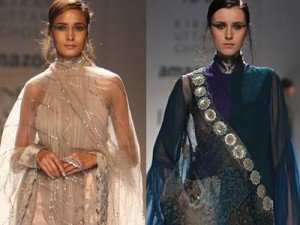 Fashion globally is flirting with the neckline for 2016. Be it the mock-turtleneck, apron neckline, the X-Factor neckline, Edwardian frog neck, jeweled neckline or the plunging V-neck, the focus is on the neck and on the shoulders. At the Fall-Winter 2016 Amazon India Fashion Week (AIFW) the designers mesmerized us with some innovative necklines and collars that spun a whole new fresh look.
I loved the asymmetrical accordion pleated collar on Rohit Bal's menswear, Rajesh Pratap's slender high-necks and apron neckline, Rohit Gandhi+Rahul Khanna's asymmetrical lapels and V-necks with bejeweled shoulders, Malini Ramani's rimmed necks, Kiran Uttam Ghosh's Churi necks, Namrata Joshipura's cold shoulders and cleavage, Gaurav Gupta's sweetheart necklines and bare shoulders, Dhruv Kapoor's oversized faux-fur collars, Varun Bahl's faux-fur capes, Hemant & Nandita's knotted-scarf necks and fur neck-bands and Rahul Mishra's mock neck, plunging Vs and throw-back shoulder baring neckline.
Neck is an erogenous part of a woman's body and these fashionable necklines definitely add a lot of oomph to the look!