CHANEL's creative director, Karl Lagerfeld has become a wizard of hype than the fashion czar that he was known as. For the past several seasons, Lagerfeld organized extravagant Chanel Resort shows in various locations around the world, including Singapore, Dubai, and Seoul. Each show portrays distinct themes that translated to both the venue and the clothes. As a result, the Chanel Resort Collection 2017 that he will showcase in Cuba today (3rd May 2016) will likely bring about bright colors and vivid patterns from the fashion house. Although Cuba, especially the capital of Havana, has inspired style trends from various designers in the past, Lagerfeld will be the very first to host a runway show in the Caribbean island nation. The hype is enormous and plane load of fashion editors have already landed and going ga-ga about the show that starts in few hours.
If you are not already feeling weird about the fact that the restrictive dictatorship continues in Cuba, as do human rights violations and widespread poverty, you definitely would after knowing that Tony Castro, grandson of Fidel Castro, will be walking for Chanel. The Latin media is buzzing with this breaking news.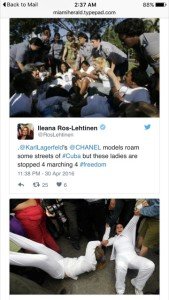 Gloria Estefan is very happy for Chanel showing in Cuba but Miami Republican Rep. Ileana Ros-Lehtinen hates the idea and venting her displeasure on Twitter. Her account, @RosLehtinen, has spent the past couple of weeks periodically posting about French fashion house Chanel, Ros-Lehtinen's particular target: designer Karl Lagerfeld, the German haute couture powerhouse heading Chanel's line, "inspired" by Cuba. The congresswoman used the opportunity to highlight repression against Cuba's Ladies in White dissidents.