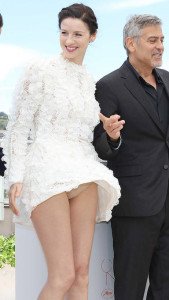 I feel a bit bad for cable TV turned feature movie hottie Caitriona Balfe for the gust of wind that blew up her skirt on the red carpet at the Cannes premire of Money Monster. I mean, she was dressed fairly innocently and those South of France seaside winds can be a doozy. But then let me also say – bless you winds!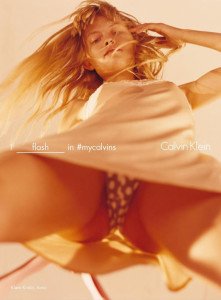 Since we are on the 'up skirt' topic let me share this news with you. The National Center on Sexual Exploitation (NCOSE) has issued a petition to Calvin Klein for removal of an ad from the recently released Spring 2016 campaign that features Klara Kristin in what's recognized as an "upskirt" shot. NCOSE has also demanded an apology from Calvin Klein According to the NCOSE, the image, shot by photographer Harley Weir, continues to normalize and glamorize sexual harassment.
Calvin Klein has not yet commented on the petition filed by NCOSE. Calvin Klein's recent advertisements for its spring 2016 global campaign definitely pushed the envelope of provocativeness much further than what we've seen in the past.