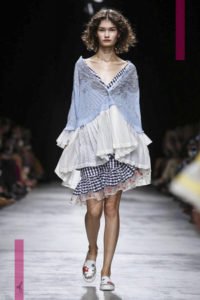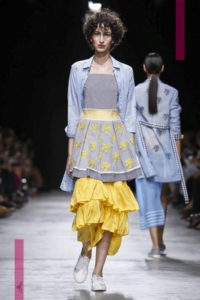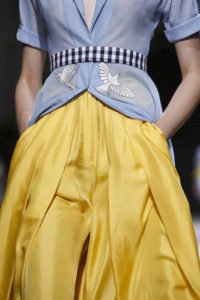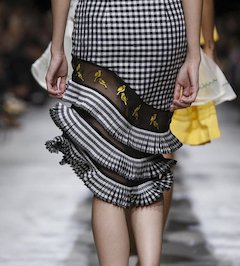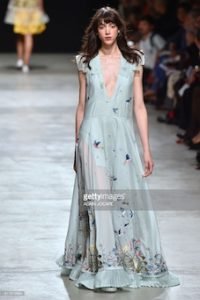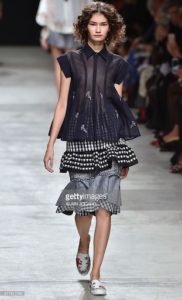 The fashion world is going through confusing times. Burberry went ahead with instant fashion (ignoring the season) and showed a new collection that would be on the racks the very next day. I think the big fashion labels are hugely affected by copycat high-street brands who flood the market with cheap look-alike styles at fraction of the price. But then some are succumbing and opting for 'Instant Fashion' but some like Rahul Mishra who are from the old-school of 'Slow Fashion' aren't. Each creation take a lot of time to produce and are not assembly-line stuff. In fact that is the forte that India provides to the fashion world.
Rahul Mishra's love-affair with sparrows continues. By the way, the tiny birds that were seen in urban world are almost extinct. Like Rahul, I too grew up with the chirping of sparrows every morning but now I don't see them anywhere. Thank god for a real summery collection Rahul. Natural fabrics that breathe are only thing you feel like slipping into in summers. I am crazy about Rei Kawakubo but was wondering how would one survive in those archictetural creations of her for Comme des Garçons. Anyway, the star designers can get away with anything.
I loved the 'Madras Checks' in Rahul Mishra's spring-summer 2017 collection, the softness of  the fabrics that he used and  the layering and of course the neat construction. The sparrows flew all over and flowers bloomed too. I am ignoring the 3-D embroidery indulgence of Rahul on some creations because have seen it already last season. As for detailing – the bare shoulder with curvy straps, the belted silhouette,the frills on the skirts and lightweight shirt-jackets were interesting.