The demonetisation of the Rupees 500 and 1000 currency that was announced nationally at 8pm on November 8, 2016 by Prime Minister Narendra Modi wasn't an absolute secret as tom-tommed by the Government. The Hindi daily – Jagran published the story of demonetisation and introduction of Rs. 2000 note on the 27th of October, 2016. Jagran's reporter, Brijesh Dubey's story is based on information sourced from RBI officials and is explicit about government's so called 'Surgical Strike on Black Money'.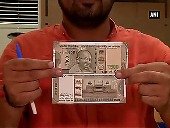 All that brouhaha about absolute stealth in wiping out Rupees 500 and 1000 denomination currency is false. Definitely lot of people knew about it and a popular Hindi newspaper  published a detailed story two weeks prior to the announcement made by the PM on 8th of November. Read the article! All that chest-beating about secrecy and Cabinet asked to keep the mobile phones outside when the news was broken seems so hollow now.
Now the video of the new Rupees 500 currency is released by ANI.
http://ishare.rediff.com/video/news-and-politics/watch-new-series-of-rs-500-launched/10683506?sc_cid=twshare