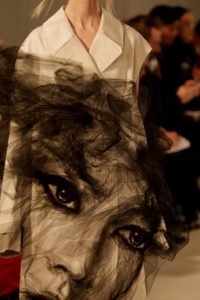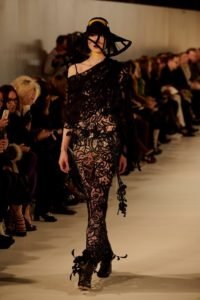 Influenced by our generation's on-going obsession with social media and the way it has been taking its toll on our everyday lives, John Galliano dedicated his Spring/Summer 2017 Margiela Artisanal (Couture) collection to the exploration of the 'selfie phenomenon', and took a look at "how reality is veiled in filters and conveyed through symbols," as explained in a statement released by Maison Margiela's atelier. 
Hinting at how we tend to sublime ourselves through social media, Galliano played with the layering of multiple fabrics to build up his conceptual evening outfits, therewith referring to social media filters. In this context, Galliano also explored the "selfie phenomenon" to picture the social media frenzy and the way it's been affecting our society. John Galliano collaborated with artist Benjamin Shine, who hand-embroidered a 'Face' on sheer tulle piece that was layered over the heavy beige fabric of a trench coat. The ensemble is popularly called the 'Face Dress'.
Besides making a statement, Galliano delved in Margiela's signature deconstructionism by literally peeling off garments to expose their inside-out structures.
When designers are making strong statements against the narcissist 'selfie phenomenon' there are few who are promoting it. Saatchi in collaboration with smartphone – Huawei held a contest – "From Selfie to Self-Expression" and the selected selfies will be displayed in London's Saatchi Gallery come March,