Arrogant behavior of staff employed with international luxury labels in India seems to be a common pain that customers have to bear. To sell 'Haute Couture' does one need to be 'Hauteur'? Bull-crap! In fact humility gets you more customer than being haughty.
All the fancy brands housed in DLF Emporio cheat customers by sending their leather accessories to Jor Bagh in New Delhi for repair while claiming the product is sent to Paris or Italy for repair. Now add to that misbehavior and haughtiness.
Here is a verbatim complaint of a disgruntled customer of Louis Vuitton in Delhi. I am posting it after doing thorough fact-checking:
Hi,
I am forwarding you my complaint which I sent to Neeraj Walia, Country Retail Head of Louis Vuitton India. I was sold a Keepall 45 bag and a Speedy 40. The Keepall 45 developed problems with its leather within just a week of gentle using. Sales Associate, Hardik and  Senior Sales Associate, Nikhil Radhakrishnan, two extremely devious and criminally sound representatives of LV at DLF Emporio, promised, assured and guaranteed me free repairs on absolutely any problem with the leather whatsoever. Day before yesterday when I went to the Store, they showed me their real colours. LV in India is selling SHIT QUALITY, probably rejects or even better, fakes, without a doubt!
Please highlight this issue on your premier and much followed website. Kindly mention my name where ever needed.  I am horrified to see the attitude and behaviour of LV staff and their sham aftersales promises.
I will take up the matter legally, if they do not repair the defective, inferior quality bag they sold me for nearly a Lakh.
Thanks,
Vibhor Sharma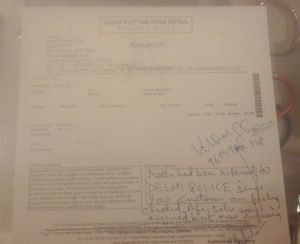 I am attaching the copy of the complaint and also a police complaint that the harrowed customer filed. COMPLAINT ABOUT PRODUCT, PERSONS INVOLVED AT LV. copy 2