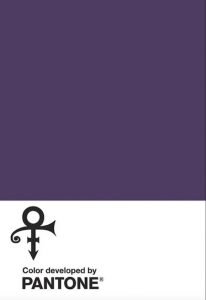 The late pop star – Prince's estate has designated a shade of purple called "Love Symbol #2" as his official colour. Working with color standards company Pantone, the exclusive colour is inspired by the purple Yamaha piano which was intended to be the centerpiece of Prince's tour before he passed away suddenly last April.
Though Prince has cited several colour in his hit songs—little red Corvette, raspberry beret, blue light, white mansion, pink cashmere—he had a particular obsession with purple, culminating in his 1984 hit album (and movie) Purple Rain. As he explained in an interview around the time Purple Rain was released, he believed that purple was the color of the Apocalypse: "When there's blood in the sky: red and blue equals purple… purple rain pertains to the end of the world and being with the one you love and letting your faith/god guide you through the purple rain."
Colour standards company Pantone has teamed up with late singer Prince's estate to create a shade of purple in his honour. "Love Symbol #2″. This announcement follows the 30th anniversary release of the deluxe edition of Purple Rain. An upcoming book of photos of Prince, released on October 17, will feature a foreward penned by Beyoncé. Love Symbol #2 will now be used in all Prince branding.