The mix of fashion and political statements is not new and there seems to have been a rise in the number of political fashion tees. Remember the "We should all be feminists" t-shirt paraded down the runway at Maria Grazia Chiuri's debut for Dior, Weekdays, a H&M owned branded store of casual fashion has introduced a label – Zeitgeist, that offers unisex T-shirts with bold slogans to raise awareness around current social and political issues. Rather than telling people what to think, Zeitgeist is there to provoke meaningful discussion. "We thought it would be an amazing way to speak up and talk about things that we think are important,"  stated Zeitgeist designer Annika Berger.  'Our pussies, our choice' and 'Destroy the patriarchy' are some most-in-demand Tees.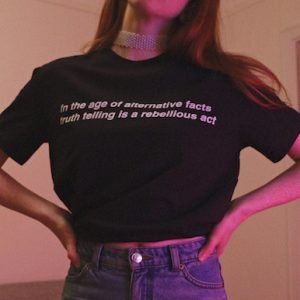 Zeitgeist's parent brand, Weekday has no brick & mortar outlets in India but they are available to purchase online – for the first time ever. Each design only has a limited run, so if you want to grab yourself a progressive tee and join the movement of social awareness, it's best to get your hands on one sooner rather than later.
When news that Raf Simons would be exiting Dior and Alber Elbaz is leaving Lanvin became public, Suzy Menkes famously commented, 'The pace of creativity, commerce and social media is dangerously out of control.' Zeitgeist created a Tee with an ornate necline printed on it with the words – 'Fast Fashion'. Anish Kapoor's giant sculpture of a Vagina at the Palace of Verseilles has fuelled debate. After the artist described it as "the vagina of a queen who takes power" the piece got vandalised.There's  a Tee on that too.
Indian designers should give "Political Tees' a thought. Would make great business sense too.