Celebrities are best ambassadress for new styles and trending fashion. Designers and design houses court them and cajole them to don their creations at their outings, knowing very well that paparazzi will click them and the clothes the celebrities wear will go viral. But at times celebrities leave you bewildered with their fashion sense.
Like this green gown with thigh-high slit Beyonce wore to one the parties during the New York Fashion Week. The gown is great but I never knew that there are one-legged spanx to wear beneath slit gowns. Did you??? In this image you can clearly see Beyonce flashing her gams and a black spanx peeking out from the other thigh. I may be ignorant but ladies would know if one-legged spanx are for real or Beyonce just cut-out one leg.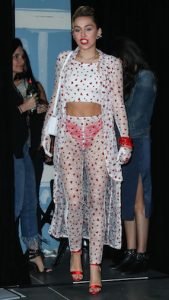 Miley Cyrus took her appearance at the iHeart Radio Music Festival literally with an outfit spangled with red hearts all over. But wonder why she had to flash her red panty through the see-through dress. If the panty was heart-shaped, it would had made sense, but it wasn't. Anyway Miley Cyrus definitely caught the attention of the paparazzi with her heart-spangled see-through dress and red panty.