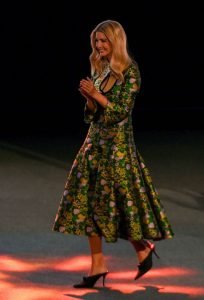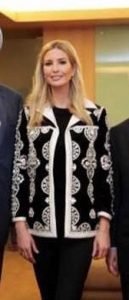 Ivanka Trump, the daughter of the US President representing the United States for the Global Entrepreneurship Summit (GES) in Hyderabad has already upset The State Department and Rex Tillerson in particularly. Besides the core theme of the summit this year is"Women First, Prosperity for All" and Ivanka Trump who has a namesake fashion brand is accused of gettting her products manufactured in sweatshops in China, Bangladesh and Taiwan where she hasn't paid wages of many women who work in those factories.
Many leading women entrepreneurs feel the summit is hijacked by Ivanka Trumpa and the host nation, that is us and the host city – Hyderabad is focussed more on pampering Ivanka Trump than really focus on the core subject of the summit.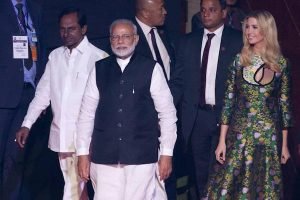 Ivanka appeared in the 'City of Pearls' in a Trump jacket embroidered with pearls. How imaginative – Pearl encrusted jacket to make the politically right appearance in the 'City of Pearls'! Her green brocade frock by  Erdem wasn' great too. Ivanka thought that brocade and the peekaboo 'Anaarkali' kinda neckline would impress PM Narendra Modi. Don't know if NaMo turned 'green' seeing her in a green dress.