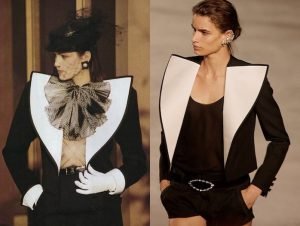 Fashion search platform Lyst has revealed this year's most looked up fashion terms. The Top-Ten fashion terms searched in the year 2017 are:
1 Power
2 Woke
3 Statement
4 Floral
5 Millennial
6 Extra
7 Masculine
8 Cult
9 Ugly
10 Vegan
Power definitely comes from the 'power shoulders' and 'power suits' showcased by many designers in their spring-summer 2018 collection. It might also reflect to the post Harvey Weinstein sexual abuse episode where Antoine Bernault, son of the LVMH Chairman, Bernard Arnault has initiated a code for zero tolerance for sexual misconduct against models. 
Woke has found its way in the Oxford English Dictionary. Activism was visible on the ramp via sloganned-Tees. It's all very well vocalising messages of empowerment, but actions speak louder than words. In the case of luxury houses, many fall short when it comes to putting their money — or messages of self-love and diversity — where their mouths are. Dior and Prabal Gurung were in the forefront of Woke-Fashion.
Floral definitely was the dominant trend at many shows. It was a virtual garden out there on the ramps of Paris, London and New York. Millennial is the target segment every label is aiming for and is getting inspired by milennial lifestyle.
Ugly must be emerging from those bicycling-shorts worn with tops as outerwear and clunky Crocs showcased by Balenciaga on the ramp.
Vegan, well besides Stella McCartney hardly any designer worth his/her name is into ethical fashion. Gucci decided to go fur-free. Let's wait and watch.