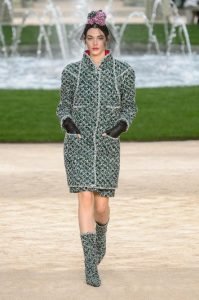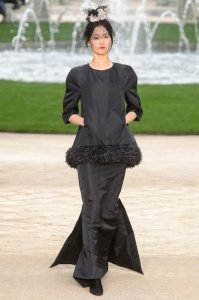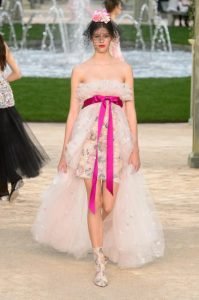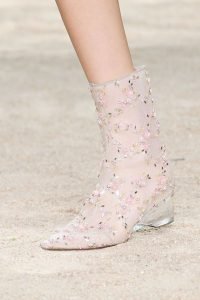 Complete with a wooden pagoda, a fully-functioning fountain and real grass, the setting for Chanel Haute Couture Spring-Summer 2018 showing was Monsieur Karl's interpretation of a formal French garden. Compared to previous seasons, you can call it rather understated.
Over all it was a 'pretty' collection and Lagerfeld stated,'There is time for prettiness when the world is becoming too ugly,' Tweed jackets and skirts ruled the collection with matching anke booties at Chanel's Spring-Summer 2018 collection. A series of shimmery, red carpet-worthy gowns in sequins, tulle, feathers and metallic-tinged ballet pink were the collection's true standouts. Floral embellishments wera all over and even on transparent ankle boots.
This season's bride wasn't in a gown – instead she stepped out in a pair of white high-waisted trousers and a tailored waistcoat, as part of a look that was finished with a feathered bustle and train. Karl's favourite mini-model (and godson) Hudson Kroenig accompanied her around the catwalk, throwing roses in front of her as she walked.