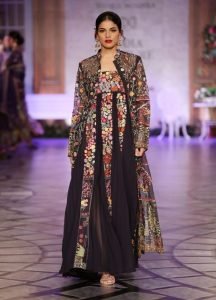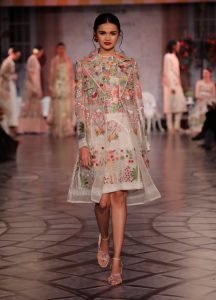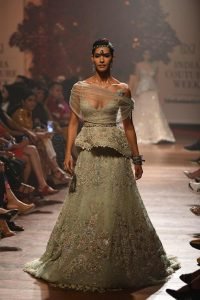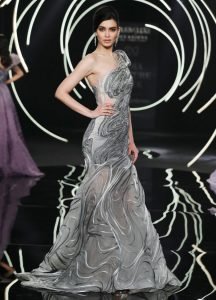 Bollywood stars have permeated every aspect of our lives. Be it toothpastes, biscuits, cars, pills to cure erectile dysfunction and creams for prevention of vaginal infection, Bollywood stars are endorsing everything. In clothings, B-Towns sell ganji-jaangia to lehengaas and sherwanis. There is nothing wrong in it as nothing sells better than Bollywood in India.
But when a designer is showcasing their couture collection, having a Bollywood diva takes the focus away from those deftly crafted ensembles and the noise is all about the Bollywood showstopper. Media headlines scream, " Malaika Arora looked dazzling and Kiara Advani stole the show". Nobody talks about the collection that takes if not thousand but hundreds of manhours to create each ensemble.
I am so glad that Rahul Mishra and Tarun Tahiliani defied the Bollywood showstopper lure. Tarun Tahiliani in fact made a statement about non-filmy showstopper on the ramp. Since there was no distraction one can talk more about Rahul Mishra's three-dimensional embroidery and mixture of floral and architectural motifs. Tarun Tahiliani's collection's hallmark was the light-weight lehengas, Peplum cholis and exquisite saris that bloomed with flowers. One can see how the floral embroidery on the pallu was so deftly created so as to not strain the light-weight base fabric of the sari. This is couture that needs appreciation.