Couturier Rahul Mishra had made an international mark a long time back. He had been a regular at the Paris Fashion Week and then moved on to be a regular at the bi-annual Paris Couture Week.
Rahul Mishra's Autumn/Winter 2022 Couture Collection that he showcased in Paris and subsequently at the 15th India Couture Week 2022 was brilliant as always. Mishra took to 3-Dimensional embroidery and added metallic sheen to his embellishments with much aplomb. Influenced by nature's bounty, the motifs and embellishment craft took the form of flora and fauna of Himalayan foothills.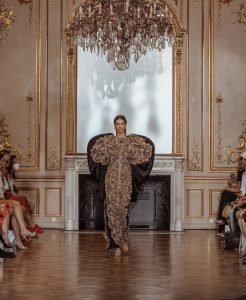 Proponent of 'slow-fashion' Rahul Mishra is the one who believes in intricate handwork that take thousands of man-hours to weave the yarn and then another thousand of man-hours to craft and adorn the ensembles that he creates.
His Couture ensembles were adorned by Cate Blanchett to be shot as the cover for the September issue of the Vanity Fair. Michelle Yeoh too featured on the September issue of the Chinese edition of the Vogue. Reliance Brands Limited did a Joint Venture with Rahul Mishra last year to introduce a new label of global pret-a-porter clothing line to be launched internationally. Mishra's ensembles on global glossies will sure work wonders for the to-be-launched label.