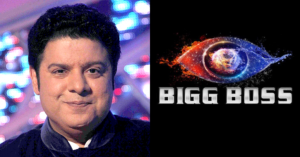 It's been a week since the Bigg Boss 16 took off at a new Bigg Boss House. Contestants are lacklustre and adding to that we have a sour one in form of film director Sajid Khan who was outted by nine women for sexual harassment during the MeTooMovement. 
Social Media is rightly offended by Sajid Khan's presence in Bigg Boss 16. Many a petition and debates have failed to evoke any response from BIGG BOSS 16 broadcaster COLORS and the film industry. It is obvious that Sajid Khan is offered a platform for redemption while the women whom he sexually harassed hasn't even got an iota of justice. I doubt even a word would be spoken about Sajid's misdeeds in the show.
COLORS would do well if they give a chance to some MeToo advocates to enter BIGG BOSS 16 as a guest  and pose some tough questions to Sajid Khan.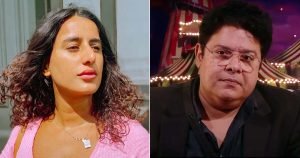 By the way Sajid Khan is infamous for flashing his penis to women, be it female actors, female journalists or female film crew. He is so obsessesed with the penis that it seems he thinks alo from between his legs. On the Sunday night episode while in conversation with contestants  Shiv Thackeray and Abdu Rozik he mentioned that people who take steroids to pump up their body, their penis shrinks. Steroids is harmful indeed. But as per Sajid, people injecting steroids to bulk-up will 'have to  hunt for their penis when they go to the loo to take-a-leak'. Seriously? When will Sajid grow out from his obsession with penis and when will COLORS react to all that angst people have against the show for providing a seria sexual harasser a platform?